(Interview in enlisch):  Warum beherrscht uns das Geld, warum haben wir ihm diese Macht gegeben? Laut Charles Eisenstein ist es die Folge der Separation von der Natur und voneinander, ausgehend von der Technisierung unserer Welt. Prof. Margrit Kennedy ist sicher, dass die sich ankündigende noch größere Finanzkrise auch eine Chance zur Veränderung bietet. Die beiden Experten eines alternativen Gelddenkens, die sich schon einigen Jahren kennen, trafen sich auf unserem Kongress "Der Neubeginn" Ende Juli 2012 das erste Mal und sprachen im Interview über unser Geldsystem und mögliche Lösungen.
Prof. Dr. Margrit Kennedy war Architektin, Ökologin, Geldexpertin und Kritikerin der herrschenden Wirtschaftsordnung. Bis 2002 leitete sie als Professorin am Fachbereich Architektur in Hannover die Abteilung "Technischer Ausbau und ressourcensparendes Bauen". Aber schon 1982 erkannte sie, dass die breite Anwendung von ökologischen Prinzipien durch Systemfehler im herrschenden Geldsystem behindert werden, insbesondere durch den aus dem Zins und Zinseszins resultierenden Wachstumszwang. In Ihrer grundsätzlichen Auseinandersetzung mit diesen Fehlern war sie zu einer Währungsexpertin geworden, die an praktischen Lösungen für lebenswichtige Fragen arbeitete.
Charles Eisenstein, Jahrgang 67, graduierte an der renommierten Universität in Yale in Philosophie und Mathematik. Unbefriedigt von der kompetitiven Struktur der Wirtschafts- und Arbeitswelt, arbeitete und lebte er lange Zeit als Dolmetscher in Taiwan. Persönliche, spirituelle und globale Krisensituationen führten ihn zu einer intensiven Beschäftigung mit der Body-Mind-Medizin und -Philosophie. Heute präsentiert er seine Visionen als gefragter Vortragsredner, veranstaltet Seminare, verfasst Essays sowie Bücher zu neuen Wirtschafts- und Lebensformen. Aktuelle Veröffentlichungen: "Die Renaissance der Menschheit" (Scorpio Verlag) und "Sacred Economics" (im Frühjahr 2013 ebenfalls Scorpio Verlag).
Das Interview führte Christian Salvesen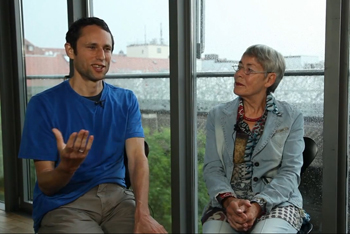 Why is money so important in our life? Money is designed to always grow. It is an eco to the scientific program, to master the world. In the last four years people were looking out more than ever for new solutions in our economic system. The american author Charles Eisenstein and the german money expert Prof. Margrit Kennedy, who have known each other for a few years and met for the first time on our convention in munich are having a discussion here about  the way we think of money.
Prof. Dr. Margrit Kennedy was an architect, an ecologist, a financial expert and a critic of the prevailing economic system. As a Professor she headed the department of "Technological Advancement and Resource Efficient Construction" at the University of Hannover's architecture school. As early as 1982 she recognized that the broader application of ecological principals was inhibited by fundamental flaws in the monetary system, especially the consistent need for economic growth resulting from interest and compound interest.
Charles Eisenstein is a teacher, speaker, and writer focusing on themes of civilization, consciousness, money, and human cultural evolution. His writings on the web magazine Reality Sandwich have generated a vast online following; he speaks frequently at conferences and other events, and gives numerous interviews on radio and podcasts. Eisenstein graduated from Yale University in 1989 with a degree in Mathematics and Philosophy, and spent the next ten years as a Chinese-English translator. The author of Sacred Economics (EVOLVER EDITIONS, 2011), he currently lives in Harrisburg, Pennsylvania and serves on the faculty of Goddard College.